Finger Labyrinth
This post may contain affiliate links, which means if you use these links to buy something SEL Sketches might earn a commission. There is no extra cost to you and it helps me fund my clipart and video/resource creating addiction!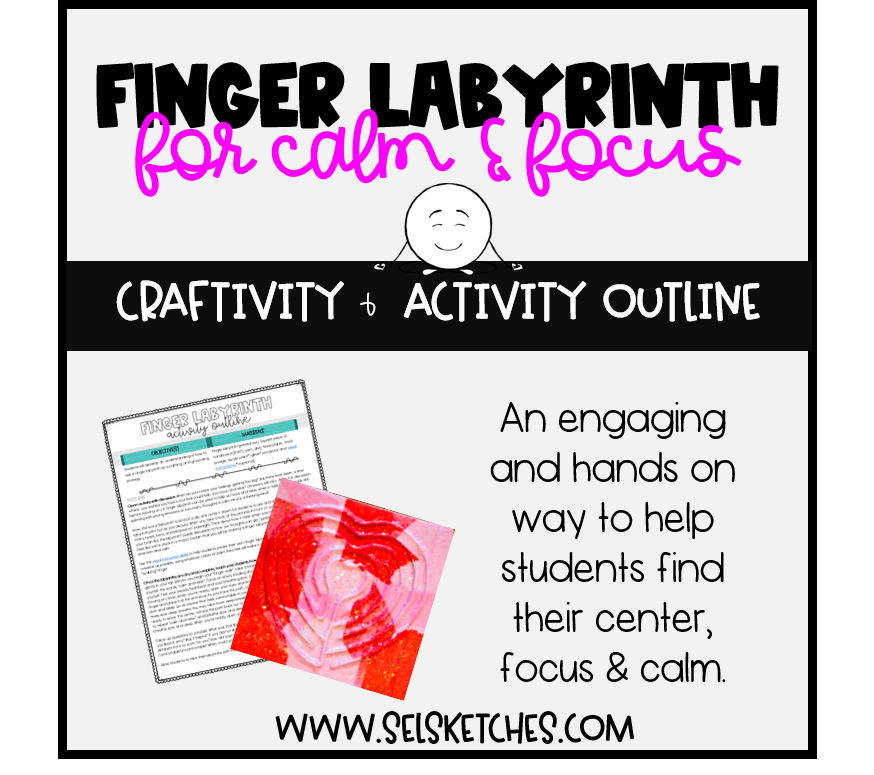 I have an increasing number of students that are requesting items to have at home for when they feel overwhelmed. I have been putting together calming kits for them, and I will often include a paper version of a finger labyrinth to help with focus and calm.
Last week, after teaching one of my students how to use the labyrinth, they stated, "There has to be a way to make this more touchy,". You see, this student really likes it when things are tactile. So… challenge accepted! I immediately went home that night and started trying to figure out a way to make that happen. I stumbled across this article on how to make this idea work, and thus, the concept took off from there!
Here's how I put a few finger labyrinths together! I've put together a craftivity and activity guide to help with this too! Check it out if you're interested!
Materials Needed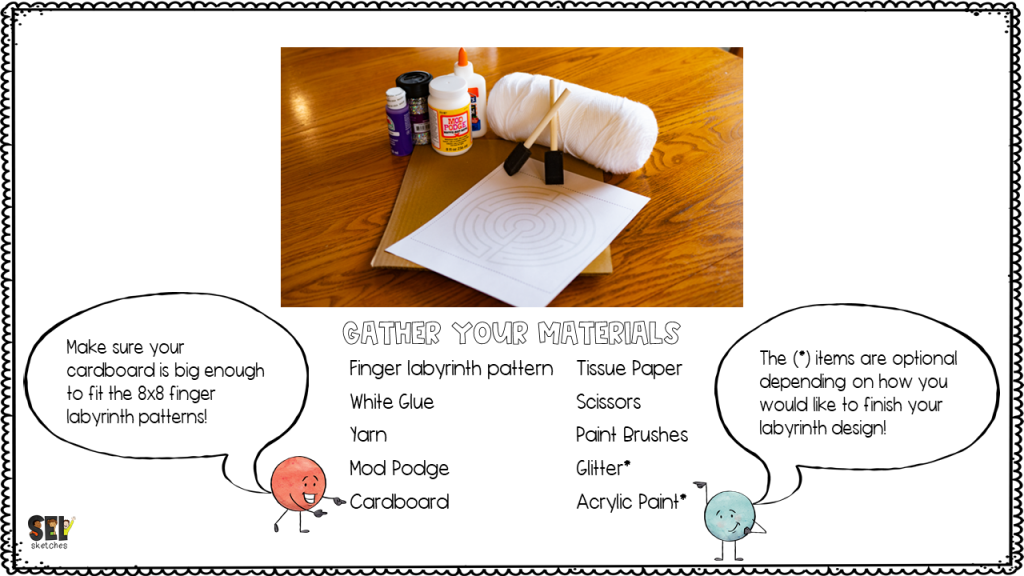 What you need: Labyrinth Pattern (included in activity guide); White school glue; Yarn; Mod Podge; Cardboard; Tissue Paper; Scissors; Paint Brushes; Glitter; Acrylic Paint.
I used some left over Amazon boxes from Christmas to start. You do not need to pre-cut them to the 8×8″ size. I cut the cardboard down to size once I had glued the pattern on top – makes it much easier!
Also, you truly do not need to have glitter and paint. These are optional and completely up to you on if you use them or not. I finished 3 different labyrinths, 3 different ways, to try and show you the options with each. You'll see each of these completed at the end of this post!
Step 1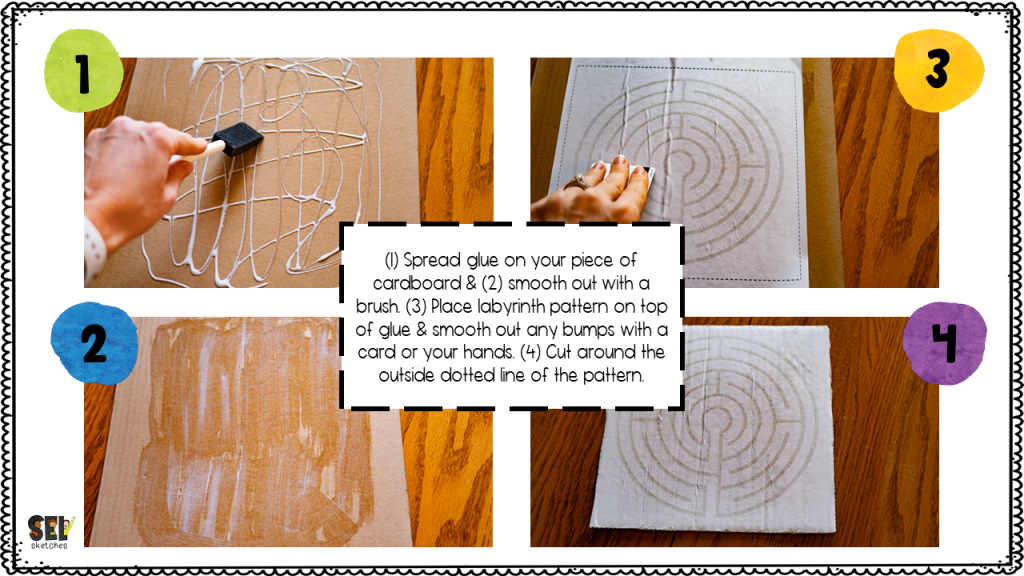 You can use the Mod Podge or glue for steps 1/2. Again, it's really a personal preference thing. I ended up using the school glue and spreading it thin on top of the cardboard before placing the pattern on top. Then, I took an old giftcard and used that to smooth out any bubbles that were left on top. Last, I cut around the dotted lines of the pattern after I let the labyrinth sit and dry for about 2-3 minutes.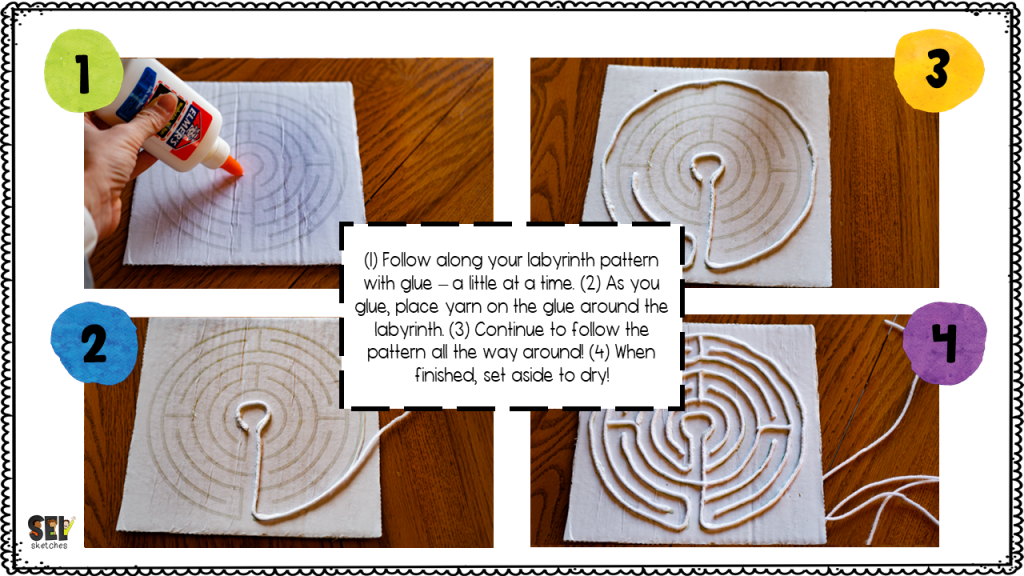 Once the labyrinth was cut out, I started to outline the pattern using white glue. I outlined a little bit at a time, then covered that section with the yarn. While the glue is wet, you'll be able to move the yarn around – so don't worry about it being perfect at first! Slowly make your way around the labyrinth with the glue and yarn until the entire pattern is covered. At this point, you will need to stop and wait for the glue to dry before moving on to Part 2.
Part 2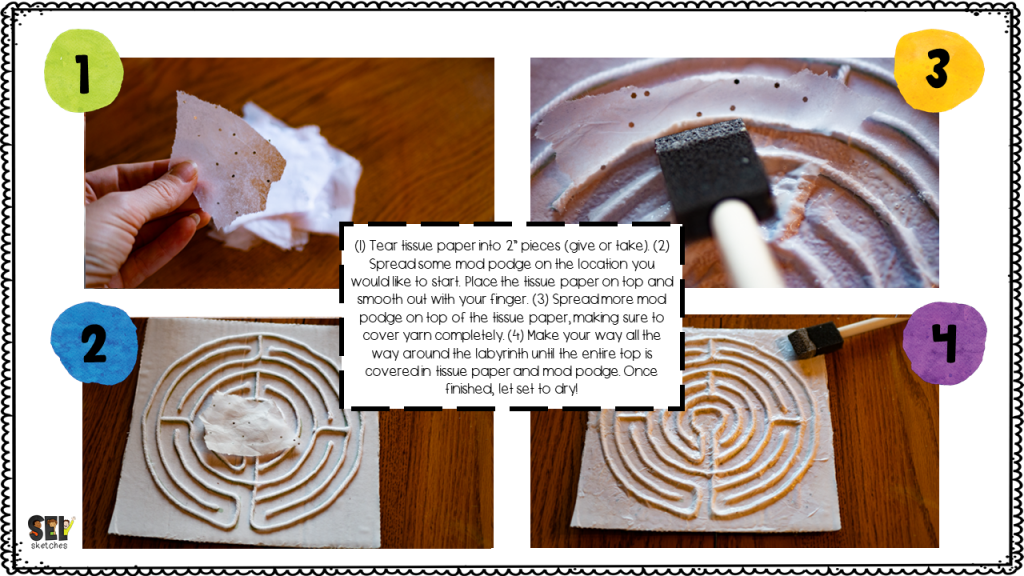 Once the yarn and glue are dry, you can move on to Step 2! Rip your tissue paper into small pieces (think paper mache size). Now, here's where you have some options!
If you are going to paint the labyrinth at the end, then you can use whatever color of tissue paper you want. I knew I was going to paint this one, so I went ahead and used white, but any color will do.
If you do not want to paint the labyrinth, you can use colored tissue paper to add a little flair instead!
Take your brush and dip it in your Mod Podge. Brush Mod Podge in small area (I started in the middle) and then place a piece of tissue paper on top. Use your fingers to gently press the tissue paper into the Mod Podge, then add another layer of Mod Podge on top of the paper to seal in place. Continue this process until the entire labyrinth is covered. Sit out to dry completely before moving on to Step 3.
Step 3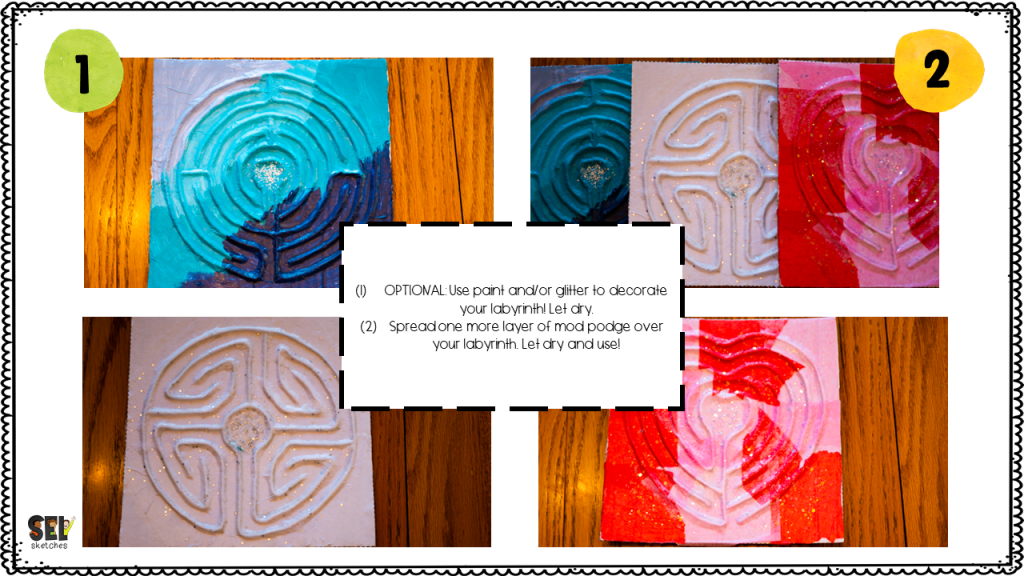 Once the labyrinth is dry again, move on to Step 3! You'll notice 3 different labyrinths above. The blue one was painted (totally my favorite), the white one is just plain white tissue paper and some glitter, and the red/pink one is colored tissue paper and some glitter (super cute for Valentine's Day).
If you decide to paint your labyrinth and/or add glitter, be sure to add an extra layer of Mod Podge to the top to smooth everything out again.
That's it! If you would like these visual instructions and activity outline check out the SEL Sketches Resource Page! I hope your students enjoy this as much as mine have so far!