What is Anxiety?
This post may contain affiliate links, which means if you use these links to buy something SEL Sketches might earn a commission. There is no extra cost to you and it helps me fund my clipart and video/resource creating addiction!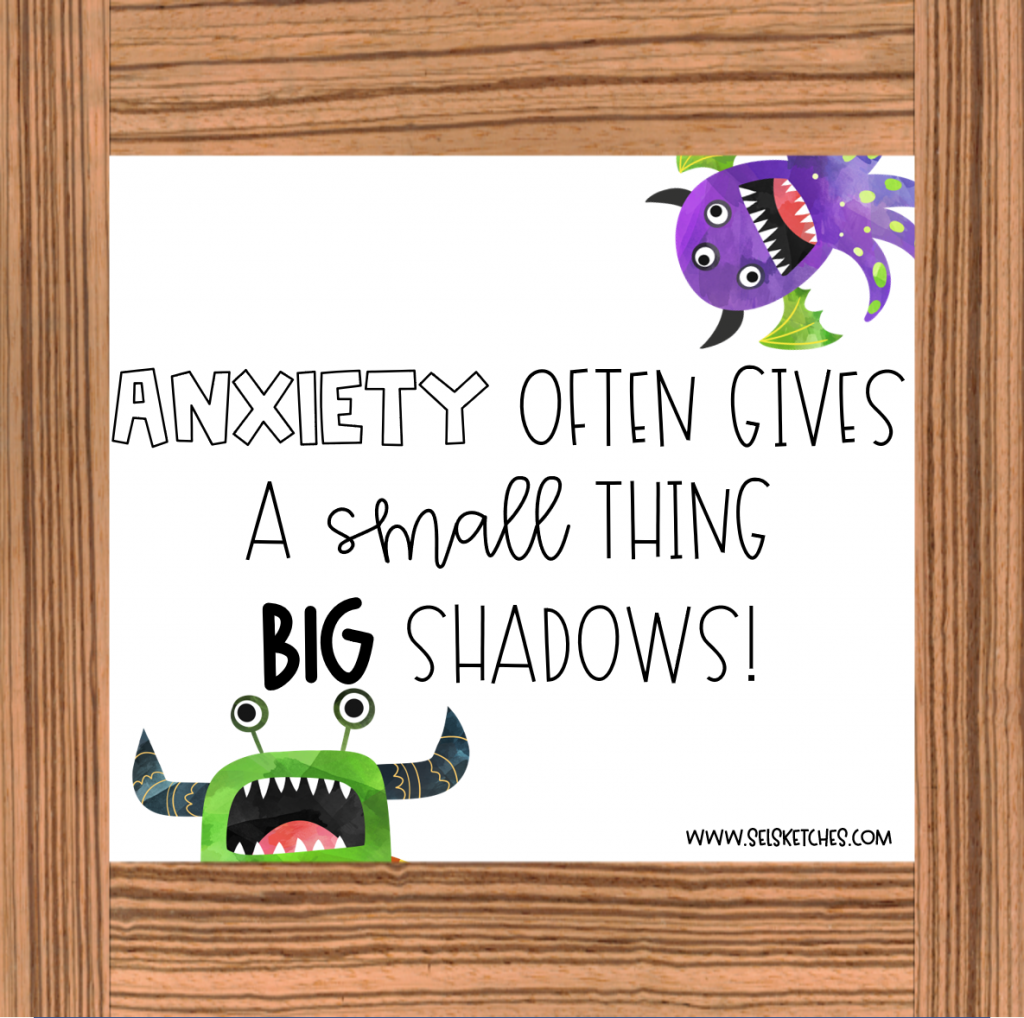 Anxiety is a BIG feeling with MANY feelings wrapped up inside, and it often manifests itself in so many ways from child to child. There are an increasing number of students in my building that are experiencing some symptoms of anxiety on a day-to-day basis. I found myself on repeat discussing what anxiety is and how it works, and thus, this video was created!
I try to normalize anxiety as much as I can by helping students understand that they are not alone, and that this feeling actually has a purpose: to keep us safe! It's also so important to teach our children how anxiety works. Simply telling them that "everything is fine" often makes things worse because that phrase doesn't do anything to get rid of the stress response happening in the moment.
Questions to Ask After the Video
Have no time for any extra activities? Simply watch the video and consider asking these questions to get students thinking about what they learned:
Anxiety is a BIG feeling! Can you remember or name any other feelings that might be involved with anxiety (fear, worried, nervous, etc.)?

Discuss the stigma behind the word anxiety and allow students to name theirs. Do they want to call it stress? Worry? Something else? What word do they relate to the most?

The bunny was anxious and alert waiting for danger (like a fox or bear) and was ready for action when the owl flew over. Discuss real vs. perceived threat. What makes you feel anxious or worried like the fox (possible or imagined threat)? Like the owl?
What are some things you can do to help turn your anxiety switch (amygdala) off? Who can you talk to?
General Goals when Working with Children
When I run a group or do individual work with students, there are a few general goals that I follow to help guide the work:
What Makes Me Anxious?
Determining student's current level of anxiety
Teaching students about the science behind Anxiety/Stress

Discuss the Fight, Flight, Freeze stress response with examples
Discuss how our bodies react to anxiety using the Body Cue Sort activity found in the Identifying Feelings Bundle

Determining support network and current coping strategies using The People in my Puzzle
Flexible Thinking
Identify the role of thoughts, feelings and behavior in creating AND managing anxiety (The Triangle – SEL Sketches Video)
Develop an understanding of the role distorted thinking plays in creating anxiety, persistent worry and fear

Begin to identify Automatic Negative Thoughts – what they are, what they do, and how to manage them!
Identify and challenge student's own fearful self-talk with positive, realistic and empowering self-talk

Identify replacement thoughts that can be used for persistent worries
Problem Solving & Coping
Develop an understanding of the problem solving process and focusing on things that are in our control
Help build student's coping skills through breathing techniques and progressive muscle relaxation
These concepts will be described in further detail as resources are created and made available to address them, but I wanted to share my outline for now in order to give you an idea of how you can use this video!
Keep in mind, this is a GENERAL outline and is not intended to provide you with a treatment framework. All students are individuals, so you will need to prepare to meet individual needs as they arise! Also note, be aware of the difference between normal feelings of anxiety and those that are more chronic. When a common worry becomes uncontrollable, or stressors do not improve with time please consult with a licensed mental health professional!
Pssst… I am planning to release more videos in this series to address some of the concepts above – stay tuned!
Picture Books that Address Anxiety
Disclosure: SEL Sketches may receive a small commission from purchases you make through these links.
I am a firm believer in the power of a good story! Here are a few of the books that I love to read to my students about anxiety and worry!
Parent/Teacher Reading
Disclosure: SEL Sketches may receive a small commission from purchases you make through these links.
Don't leave yourself out! Learn more about how to help your student or child conquer their anxiety by reading one (or all!) of the titles below!
Questions or comments? Leave a message below or email me at lindsey@selsketches.com!
~Lindsey